Repetitive Strain | Stress Hand Injury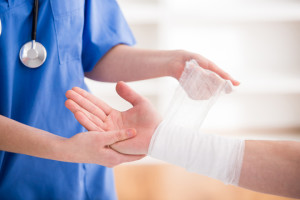 Many everyday chores require repetitive hand movements that are against the natural design of hands. Over time, these repetitive movements may lead to Repetitive Strain Injury or Repetitive Stress Injury of the hand. Severe cases of such injuries may require hand surgery or cosmetic surgery to restore the regular hand function.
Treatments for these injuries should be sought from a qualified and experienced hand and cosmetic surgeon for safe and effective results. Dr. Asaf Yalif is a triple board certified hand surgeon providing solutions for repetitive strain and stress injuries of the hand to patients in Atlanta, Roswell, Woodstock, and surrounding locations.
What are Repetitive Motion Hand Injuries?
Repetitive motion hand injuries may usually involve damage to the thumb, fingers, wrist or elbows. These injuries typically occur when a repeated motion causes irritation, swelling, weakness, limited range of motion, and discomfort. Sometimes these repetitive motion injuries may result in conditions such as carpel tunnel syndrome, De Quervains syndrome, tenosynovitis, and bursitis
In many cases, these injuries are related to the workplace or recreation activities where repetitive motion can cause soft tissue injuries of the hand. If left untreated, these injuries can worsen into severely debilitating and painful conditions that could significantly impair the patient's quality of life. Leading plastic surgeon Dr. Yalif provides advanced and innovative treatments for these injuries.
Common Repetitive Motion Injuries
Any repetitive motion of the hand, wrist or fingers can result in repetitive motion injuries.
Use of Tools
The use of common tools may sometimes require the user to bend or twist the wrist. Some of the tools may be heavy, incorrectly balanced, expose the hand to prolonged vibration, bite into the soft tissue of the hands or fingers, require considerable repeated trigger pressure with the fingers, have finger grooves, and blow cold exhaust on the hands. These motions on a repetitive basis can cause injury.
Use of Computer, Mouse and Keyboard
Typing on a computer keyboard, gripping a mouse with the hand, and engaging the fingers and thumb with the touchpad for several hours on a regular basis will involve repeated use of the fingers and thumb in a 3-D pattern. This can cause Repetitive Stress or Strain Injury in the hands, wrists, or fingers.
Gamer's Thumb or Texting Thumb
Repeated use of the thumb in a 3-D, rotational motion can cause this type of injury. Symptoms will include pain and reduced grip strength or limited range of motion. Tendonitis or tenosynovitis may occur depending on the area and extent of inflammation and irritation.
Golfing Injuries
Golfing injuries may occur to the hand, wrist or elbow. Inflammation of the tendons in the wrist or fracture of a small bone in the wrist may commonly occur for golfers. Inflammation of the tendons on the inside of the elbow due to repeated swinging motion may cause a golfer's elbow.
Tennis Elbow
Tennis elbow may occur due to acute inflammation of the tendons that run along the outside of the elbow. This injury is usually caused due to the repetitive use of the exterior forearm muscles.
For more information about the plastic surgery procedures and treatments performed by Cosmetic Surgeon Dr. Asaf Yalif please call us at 404.822.4402 or click here to schedule a consultation. Offices located in Atlanta, Roswell, and Woodstock, Georgia.